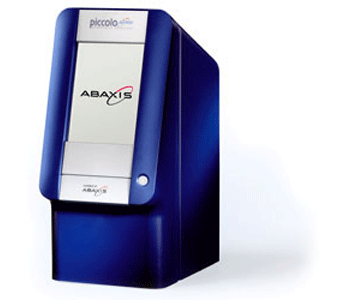 Abaxis Piccolo® Xpress Chemistry Analyzer
Note: The Piccolo Xpress is currently exclusive to Abbott Point of Care in the U.S.
If you're interested in purchasing the Piccolo Xpress outside of the U.S. CLICK HERE.
The Piccolo® Xpress is a compact, portable clinical chemistry system designed for on-site patient testing, with a throughput of approximately 5 samples per hour. Roughly the size of a shoebox, physicians use the easy to follow touch screen commands to perform routine chemistry panels.
The system works by placing 0.1cc (or 100µL) of whole blood, serum or plasma directly to the patented 8-cm diameter single use plastic disc containing the liquid diluent and dry reagents. The disc is then placed in the analyzer drawer to mix the reagents and sample within the disc.
The Piccolo® Xpress monitors the reagent reactions simultaneously using nine wavelengths, calculates the results from the absorbance data and reports the results. The Piccolo Xpress self-calibrates with each run and the on-board continuous intelligent Quality Control (iQCT) monitors the analyzer, reagent reactions and sample to ensure chemistry and instrument integrity.
Abaxis Piccolo® Xpress Specifications
| | |
| --- | --- |
| Cuvettes: | Pre-packaged CLIA waived disc |
| Reaction Volume: | 100 µL |
| Reagent Volume: | n/a |
| Sample Capacity: | Single patient samples |
| Sample Type: | Lithium heparin, whole blood, serum or plasma |
| Throughput: | Approx. 5 specimens per hour |
| Weight (in pounds): | 12 lbs |
| Dimensions (W x H x D): | 15.2 cm x 32.4 cm x 20.3 cm |
Abaxis Piccolo® Xpress Test Menu
Click on an assay for more information…
Note: The Hepatic Function Panel is considered "non-waived."
Portable Documents